Have you ever considered what kind of an impact you will have on our planet? I'm not talking about "going green" or doing good by the environmentalists. I am talking about making an impact on SOMEONE.
Maybe it's your kids, your nieces, your nephews, your neighbours, your friends. Have you ever stopped to consider that you make an impact on everyone you meet? Perhaps it's a homeless man who you gave your loose change to or maybe it's an old lady that you held the door for. Everyone you encounter is impacted, to some degree, just because you are you. Obviously, you make a larger impact on someone you see every day than that homeless guy in the street, but it's an impact all the same.
I was thinking about this on Friday, Nanny B's birthday. I got to thinking that the things she learned from her mother were passed on to my mother and on to me. Generations before her had learned and passed on information that will forever be passed down, generation to generation. See, when Nanny B died, the only people that noticed were her friends and family. When say, Paul Newman, died, alot of the world noticed. Why? He was just a man. A man who made movies, but just a man. He taught his kids the same things as my Nanny taught me and his mother taught him the same things my great-nanny taught my nanny. He was a celebrity because of his movies, but he was just like my Nanny. I like that thought.
Just because I haven't made a movie, written a book or sang a famous song, I will make a HUGE impact on my husband, my kids, my nephews, my nieces, my friends, cousins, neighbours, co-workers and everyone else I will ever meet. That's a big responsibility if you get technical. Whatever *I* do will affect at least one other person.
Yesterday, while waiting in the Tim Horton's drive through, a boy, about 12, asked me to roll down my window so he could ask me to support something...no idea what, but that's not the point. He asked me to buy either caramel swirls or chocolate covered almonds. I noticed that only one of the four people in front of me and neither of the two behind me purchased his chocolates. It was freezing outside yesterday and I "paid it forward" and bought some almonds. But the point is not that I bought the almonds, the point is that it started a conversation between that boy and I. I told him that it was very cold outside and that he should be wearing a warmer coat. He agreed as he chuckled and said..."I wish I had gloves too!" I reached into my back seat and gave him my pink gloves. I apologized that they were pink, but he was very grateful. As I pulled up to the speaker, I called out for him to put his hood up or he would catch pneumonia (see what I mean about learning from your Mom?!) and he laughed and put up his hood. So, a three or four sentence conversation made a HUGE impact on his kid. He probably threw my pink gloves away when he was done, but for the short time he was out in the cold, he thought of me and had warm hands.
Next time you are in a sitation where you can make an impact, make it. Make it BIG. You may never have the opportunity to make that impact again. Be a good person...it will make you feel good. Pay it forward.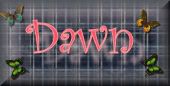 Pin It