For the past two days, I have been in a training session, outlining the new process for my job. The Manual of Procedures ("MOP") was introduced and, being a 272 page document, I am sure you can imagine that there was alot to cover.
The MOP itself is fantastic. It outlines all of the steps and audit points that my job requires. There is also an awesome checklist for us to follow as we go through a project. I think that once we are used to it, this new process is a very, VERY good thing.
HOWEVER...
I am busier right now that I have ever been in this position. I have nine accounts and I am barely treading water. Add the fact that I just spent two full business days in training and I am WAY behind. I had 17 emails yesterday and 23 today. I just got through them now (yes, it's 10:00 pm) and I have a GAZILLION things to do tomorrow. I just wanted time to sift through the sea of information that I have been given, but I think tomorrow will be a right-off with catch up. Looks like I'll be working for the weekend! Ugh. Short term pain for long term gain, I guess.
I must say that I absolutely LOVE my job. I am so blessed to be able to work from home and make my own hours (to a certain extent...read above) and love everything I do. I have never, ever been happier in a career...honestly. My company treats me SO well and really makes me feel appreciated. Just yesterday, my manager gave mew a plaque for having a perfect customer satisfaction survey score from one of my clients. I think that speaks to how much I love my job.
Part of my prayers every night is thanking God for such a great job and a great company to work for...a company where the executive VP's and the President know me on a first name basis and treat me as an equal. Running into the President of a company with over 3,000 employees and having him say, "Good morning Dawn! Long time no see! How have you been?" and genuinely care for my answer, means SO much.
I ran into the Executive Vice President of Business Developemnt today. I forgot my security pass, so as he walked out of the side door, I asked, "S...can you let me in please? I left my pass at home." His response was: "DAWN!!! Oh my gosh how ARE YOU? Of COURSE I will let you in!" He kissed my cheeks and hugged me and said he was so pleased to see me. THAT my friends is a company worth working for. That is a company that makes me want to work HARD. That is why I have been here twelve and a half years. THAT is why I am a "lifer" and will never leave.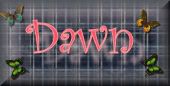 Pin It