Today, Mum finally sold Nanny B's bungalow. It had been on the market since August and today was the closing date. Now, Mum can rest, not having to email back and forth with lawyers and worry about whether the house is safe. It has definitely worn her out.
S and R, the new owners are a lovely couple that actually lived next door to Nanny B. I wish them many happy memories in Nanny's house...as happy as my memories are of that lovely bungalow in a little village:
Today is also Nanny B's birthday. She would have been 84. I know it's a tough day for Mum today...bittersweet.
I love you Mum...hang in there.
Happy Birthday Nanny B. I miss you and love you tons.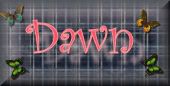 Pin It