Damn I hate the Canadian winters. My tan will soon fade and the stress that ate me up before we left will soon return.
Our flight landed at 1:40 am this morning. By the time we got through customs and picked up the car, yada, yada, yada, we didn't get into bed until 4:20. I was up at 8:00 because I have to work. We kept the boys home from school because it was MUCH too late to have them sleep for 4 hours and then function at school. Ahhh...school days. Threepeat slept from 8:00 right through the flight...WOOHOO!
Tonight will be a VERY early night for me. I have a VERY VERY busy day and week ahead, so I will be a very tired girl if I don't stay on top of my sleep.
What started out as a vacation nightmare ended up so sweet. We had a such a nice time for the last few days...I only wish it could have been longer.
Tim Hortons Roll Up the Rim:
Large: Please play again.
Large: Win a Coffee - WOOT!
Large: Please play again.
Medium: Please play again.
Large: Please play again.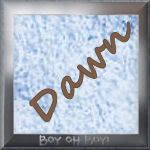 Pin It