Yes, anonymous, I said it again...dry up.
Can you say, "BACK TO REALITY"?
Work was CRAZY today and will continue to BE crazy all MONTH. Yes folks, I am going to go MENTAL in March. I guess I should be grateful I have a job, and I am, believe me, but this is CRAZY busy.
I had a client appointment that I put off until Wednesday because of my flu-like symptoms this afternoon. Although I am feeling a bit better tonight, I am FAR from 100%, so a day at home, catching up on 143 emails...yes, I said 143 emails...Ooops...there's 144...since I left on Friday. I *am* an important gal, aren't I?
I will be writing again tonight I think, once the kids go to bed...this daylight savings thing is a killer. Hmmm...what else can I bore you with? More later gaters.
Tim Hortons Roll Up the Rim:
Large: Please play again.
Large: Win a Coffee - WOOT!
Large: Please play again.
Medium: Please play again.
Large: Please play again.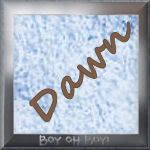 Pin It