Our flight leaves at 11:00 tonight. I SO don't want to come home.
The weather has been perfect and now that we are all healthy, it seems to have flown by much too quickly. Today, the high is expected to be 82 degrees and there is not a cloud in the sky. I want to live in Florida.
Say a little prayer for us for a safe trip home will ya? You all know how much I hate flying. Thanks.
Tim Hortons Roll Up the Rim:
Day One: Large: Please play again.
Day Two: Large: Win a Coffee - WOOT!
Day Three: Large: Please play again.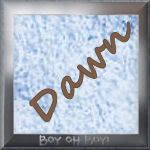 Pin It